---
We are two ladies who decided to shoot photos of all the awesome people who get out there on the Upper Yough.
.
This business was fully created a month before the first release on April 17th, 2021, and it's been an awesome fun time out there capturing all those Upper Yough moments!
.
Keep a lookout for us out there on the water and rocks and be sure to browse all the photos in the store, cause they're all super entertaining and rad 🤘
---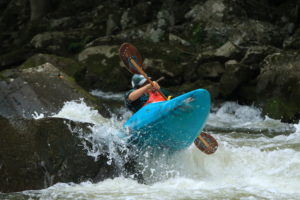 Cara Giannone
Art, kayaking, graphic design, have always been a main focus of my life, whatever I was doing. Photography was in line with those interests, as well as a tool for keeping memories. With that, I never had photos of myself as I was always taking the photos. I am super glad that I to get to capture the river memories for those people that come down the river so they can see themselves out there enjoying the day!
Christina Kossis
Photography was my first love and then I discovered kayaking. Finding a way to combine those two things and share it with the community on one of my favorite rivers in the world has been one of the most fun and rewarding things I have ever done.